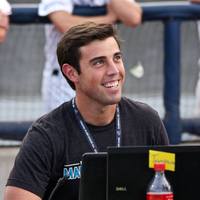 The Yakima Valley Pippins are proud to broadcast all regular-season games (home and away) live and online at 1460 ESPN Radio Yakima, the official home for Yakima Valley Pippins Baseball.
Evan Budrovich, the newest voice of the Yakima Valley Pippins, will be on-hand to call the play-by-play action at each and every contest throughout the 2016 West Coast League season.
Make sure to bookmark this page to listen online; or (click here) for the mobile app to play our broadcasts on your smartphone.
Make sure to follow the Yakima Valley Pippins on Twitter, Facebook and Instagram @PippinsBaseball and listen to the best highlights of the game on SoundCloud and video interviews on YouTube.
To view live stats for today's game, visit the Pippins Pointstreak Team Page.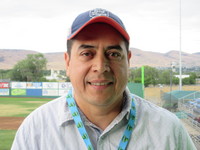 The Yakima Valley Pippins broadcast each and every home game of the 2016 season in Spanish on Radio KDNA 91.9, "El Voz de Campesino" live from Yakima County Stadium.
Francisco Rios, the Spanish voice of the YV Pippins, calls all the play-by-play action for Latino fans across Yakima Valley. Our Spanish-language broadcasts can be accessed online by clicking (here)!