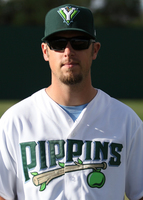 Marcus McKimmy
Assistant general manager/Director of Baseball Operations
E-mail:
Marcus McKimmy enters his fourth season with the Pippins with expanded duties. In addition to continuing his field manager role in 2017, McKimmy also wears the title of assistant general manager/director of baseball operations. Along with his recruiting responsibilities, McKimmy's off-season role includes sponsorship and ticket sales and community outreach.
Before joining the Pippins front office, McKimmy served as the head coach at Yakima Valley Community College for three years. McKimmy joined the Yaks coaching staff in the fall of 2009 after one year as an undergraduate assistant coach for Gonzaga University. He also helped coach the Yakima Valley Pepsi Pak American Legion baseball team for two summers (09-10). The Pak made the state tournament both summers, and finished second in 2009.

He played his prep baseball for coach Mike Archer at Selah High School. A four-year letterman at Selah before graduating in 2004, McKimmy led Selah to two state Final Four appearances, finishing 3rd in 2001 and 3rd in 2004. In his senior year, he was a 3A All State shortstop and Mid-Valley League MVP. Also in 2004, the Vikings produced an overall record of 26-1. He also played four summers on the Yakima Valley Pepsi-Pak (2002-2005), also coached by Archer. The Pak finished 2nd in 2002 before winning the programs third ever state title in 2003.

In college, McKimmy attended Columbia Basin College (05/06), San Jose State University (07), and Gonzaga University (08). At CBC, he was a two-time all East-Region performer for Head Coach Scott Rogers. In 2006, as the starting shortstop for the NWAACC championship team, McKimmy received 1st team All-NWAACC recognition as well as all-tournament team while leading the Hawks to their 2nd title of the decade. The Hawks set the NWAACC record for wins in a season (45) in 2006. McKimmy also holds the current record for single season hits (84) and career hits (127) at the institution.

Upon transferring to San Jose State, McKimmy started 57 of 60 games for the Spartans in 2007. He led the team in runs (58), was second in doubles (14), home runs (7), stolen bases (11), and fourth in RBI (45). He received 2nd team all-WAC accolades that year. He completed his final year of eligibility at Gonzaga University for Head Coach Mark Machtoff. He hit .300 in 2008 for the Bulldogs, while again leading his team in runs (51), finishing second in RBI (52), doubles (14), stolen bases (8), walks (31), and third in home runs (6).

McKimmy graduated with his Bachelor of Arts degree from Gonzaga University in psychology.