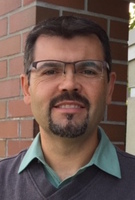 Andy Jones
Director of Hospitality
Phone:
509-575-HITS (4487)
E-mail:
Andy Jones
Andy begins his second year with the Pippins with a new title -- Director of Hospitality -- with primary responsibilities in ticket sales and service, and food and beverage operations at The Orchard.
Born and raised in Yakima, Andy grew up watching his brother, Gary, and current Pippins pitching coach Bob Wells play on the great Yakima Beetles American Legion teams of the mid-80s. He spent many summer nights working as a "foul ball shagger" at Parker Field so he could buy his first Beetles baseball cap. A player himself, Andy grew to respect and love the game. Since 2011, he has coached his two sons and currently serves as a board member of East Valley Youth Baseball & Softball.
Andy has many years experience in sales and service. Most recently, he worked in Yakima for Banner Bank, financial partner of the Pippins.
"The Yakima Valley has a rich history of baseball. The excitement and anticipation the game brings to a summer evening is a foremost memory of growing up here. I'm excited for the opportunity to join a front office that has built a culture of winning and tradition so quickly."