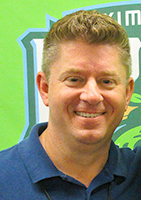 Jeff Garretson
General Manager
Phone:
509-575-HITS (4487)
E-mail:
Jeff Garretson
The Garretson name has deep ties to baseball history in the Yakima Valley. His father, Bob Garretson Jr., now retired, won two World Series as head coach of the Yakima Beetles and also was a longtime head baseball coach and assistant coach at Yakima Valley Community College. Garretson's grandfather, Bob Sr., played first base for the Pippins – then a professional franchise – in the team's inaugural season in 1937 before continuing his playing and coaching career. Bob Sr. is the namesake for an annual Legion tournament that is hosted in Yakima each summer.
With the Pippins, Garretson leads all local market activity, including focus on ticket and sponsorship sales and service, business operations, ballpark operations, and fan experience.
"Yakima has a great history of successful baseball programs at many levels – high school, Legion, college, professional," he said. "In just over a year and a half, the Pippins' front office and coaching staff have created an exciting experience at The Orchard."
Garretson is in his third year as the team's general manager.